Toilet Paper Roll Christmas Tree
This toilet paper roll Christmas tree craft is a super simple way to upcycle toilet paper rolls that you'd have otherwise thrown away! 
If you've got littles in your house, a great way to entertain them this holiday season is by having them make their own decorations! A personal touch can go a long way, and your kids will love seeing their art around the house. And, for those who don't want to display huge projects, the nice thing about this particular Christmas craft is that it is small, simple, and cute!
What you'll need:
toilet paper rolls
paint
paint brushes
gems
glue gun
craft scissors
craft tweezers (optional)
star (felt, construction paper, card stock, etc.)
Looking for more Christmas crafts? Try this Paper Plate Santa Craft or these DIY Candy Cane Christmas Ornaments.
How to Make a Toilet Paper Roll Christmas Tree
This project is great for toddlers and preschoolers with adult supervision, as it does required a glue gun and scissors. Feel free to play with your colors and "ornaments"!
Ready to learn how to make a Christmas tree out of toilet paper rolls? It's easy! Follow these simple steps:
Step 1: Gently flatten your toilet paper roll so there is an obvious place to draw your tree. Be careful not to crease the edges.
​Step 2: Use a pencil to draw an outline of your Christmas tree, leaving about 1/2 inch on the bottom. This portion is to allow your toilet paper roll Christmas tree to stand up unassisted. Consider this portion the "ground" that the tree stands on!
You should also leave some space at the tip of each branch to keep the tree connected. The only "open" space should be the top of the tree, which is already open due to the tube part of the roll.
Step 3: Cut along the outline of your tree with craft scissors. Erase any stray pencil marks.
Step 4: Paint your trees with your colors of choice.
We used acrylic paint: green for one tree, white for the second, and mixed green and white for a lighter shade on the third. Feel free to be creative with your shades!
You can leave the tree trunk and/or the ground unpainted since the toilet paper roll is already brown, or you can paint them another color. Set aside to dry.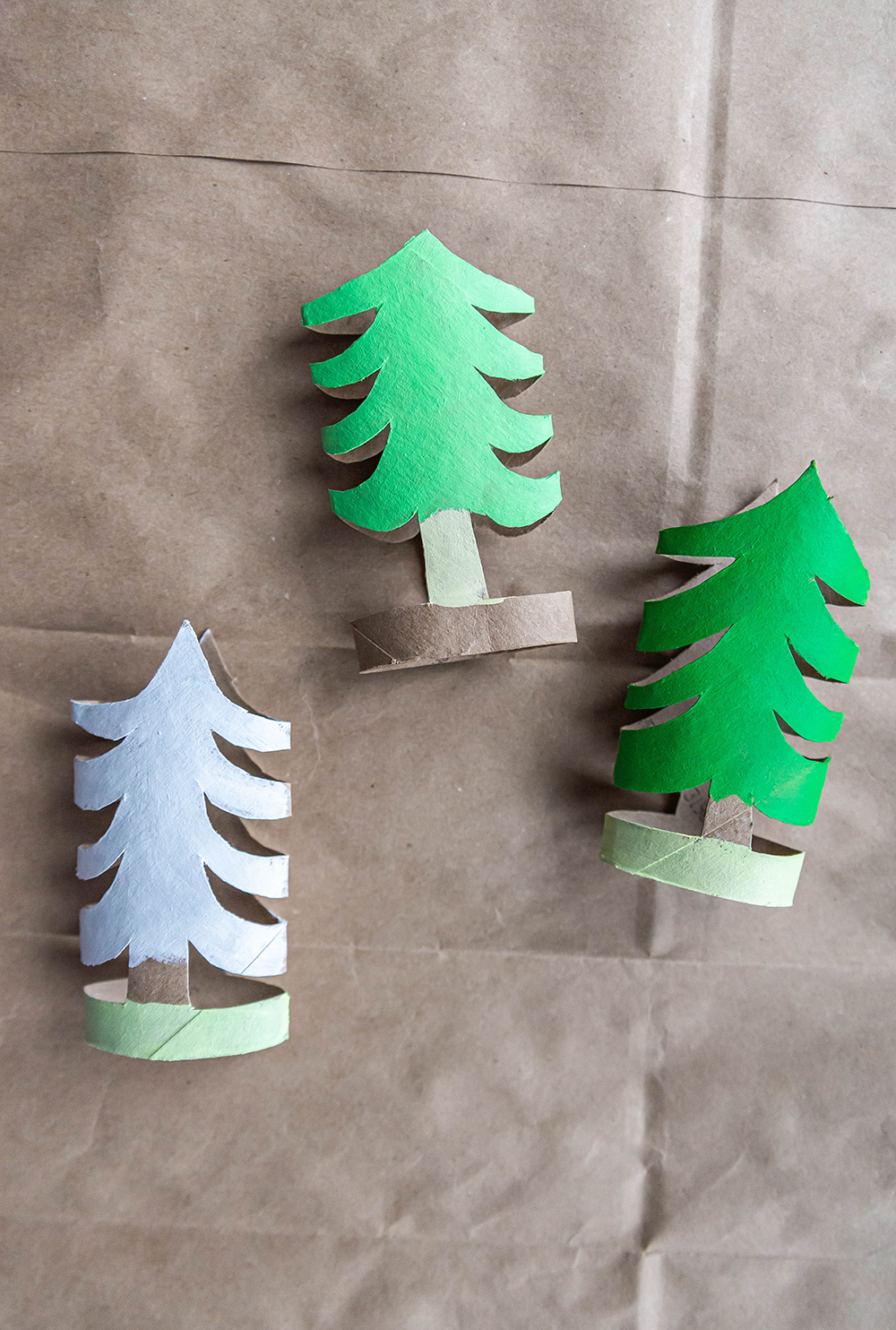 Step 5: Once dry, use your glue gun to paste a gold star to the top of the tree. In this project, we used a pre-cut felt star, but you can use gold/yellow cardstock or construction paper if you prefer.
Step 6: Using your glue gun, paste your gems onto your Christmas tree using your favorite color scheme. If you have gems with adhesive, skip the glue and place them directly on the tree.
Tip: I recommend using craft tweezers to make this step easier!
Step 7: Put your Christmas trees on display and enjoy during the holiday season!
More Christmas Activities:
DIY Candy Cane Christmas Ornaments
Free Christmas Scavenger Hunt Printable for Kids
SAVE THIS PROJECT FOR LATER: