DIY Candy Cane Christmas Ornaments
DIY candy cane Christmas ornaments are the perfect decorations for the holiday season. They are so much fun to make with kids, and their excitement when they see the final product is priceless! You're going to love these cute candy canes.
If you're looking for Christmas decorations to make with your family, a candy cane ornament with pony beads is an easy way to make something that you can reuse year after year! They can be hung on the tree, on your mantel, off Christmas lights… anywhere, really. And, they'll be extra special because they're homemade.
This candy cane pony bead craft is perfect for toddlers and early preschoolers who need to work on their fine motor skills. Though the concept of threading beads is simple and the process repetitive, it takes concentration, a steady hand, and patience. You can keep those little hands very busy if you have them focus on threading each pony bead onto the pipe cleaner, while alternating colors to make the candy cane stripes.
And, thanks to the built in "hook" of the cane, there is no need for twine or string to hang them onto your Christmas tree, making these easy candy cane ornaments a walk in the park. The candy cane shape is the hanger itself!
You can find many of the supplies for pony bead candy canes at the dollar store or dollar tree. You may even have some around the house!
You will need the following craft supplies:
red and white pony beads (opaque, glitter, or both – approximately 30-36 beads per candy cane)
red, white, or silver pipe cleaners
craft scissors
hot glue gun (optional)
If you're looking for more homemade ornament ideas, check out our White Pine Cone Ornaments which are great for kids or adults, or our Pipe Cleaner Wreath Ornaments.
How to Make DIY Candy Cane Ornaments
If your kids love candy canes, they are going to get a kick out of this. This easy Christmas craft is a great activity that is sure to be a hit with the kiddos, whether you do it at home or in the classroom with your students! And, they make great gifts from younger kids to their family members.  If you've got a good amount of time, you can make a whole batch to hand out over the holidays (or keep for your own tree decorating!).
Follow this simple tutorial for extra fun during Christmas time.
Step 1: Assess your supplies.
a) Beads – Play around with your color types. For this project, we experimented with opaque beads (red and white) and glitter beads (red and clear with gold flecks). You will need about 30-36 pony beads per pipe cleaner.
b) Pipe Cleaners – For this project, we used solid red, tinsel/glitter red, tinsel/glitter silver. White pipe cleaners would also work perfectly!
Step 2: Take your pipe cleaner and choose the opposite color bead for your end piece. Thread the bead to the end of the pipe cleaner and wrap its tip around the side of the bead and through the hole again. This will hold the rest of the beads in place. So, if you are using a red pipe cleaner, start with a white bead, and vice versa.
Step 3: Add the rest of the beads to your pipe cleaner, alternating red beads and white beads. This is a good step to have your child work on their fine motor skills! Continue until your candy cane is at its full length,
Step 4: The last bead on your pipe cleaner will be double threaded like the first bead. Put the bead on the pipe cleaner and then wrap the end of it around the side of the bead and through the hole again. Be sure the bead fits snuggly against the preceding bead, and then snip any remaining pipe cleaner.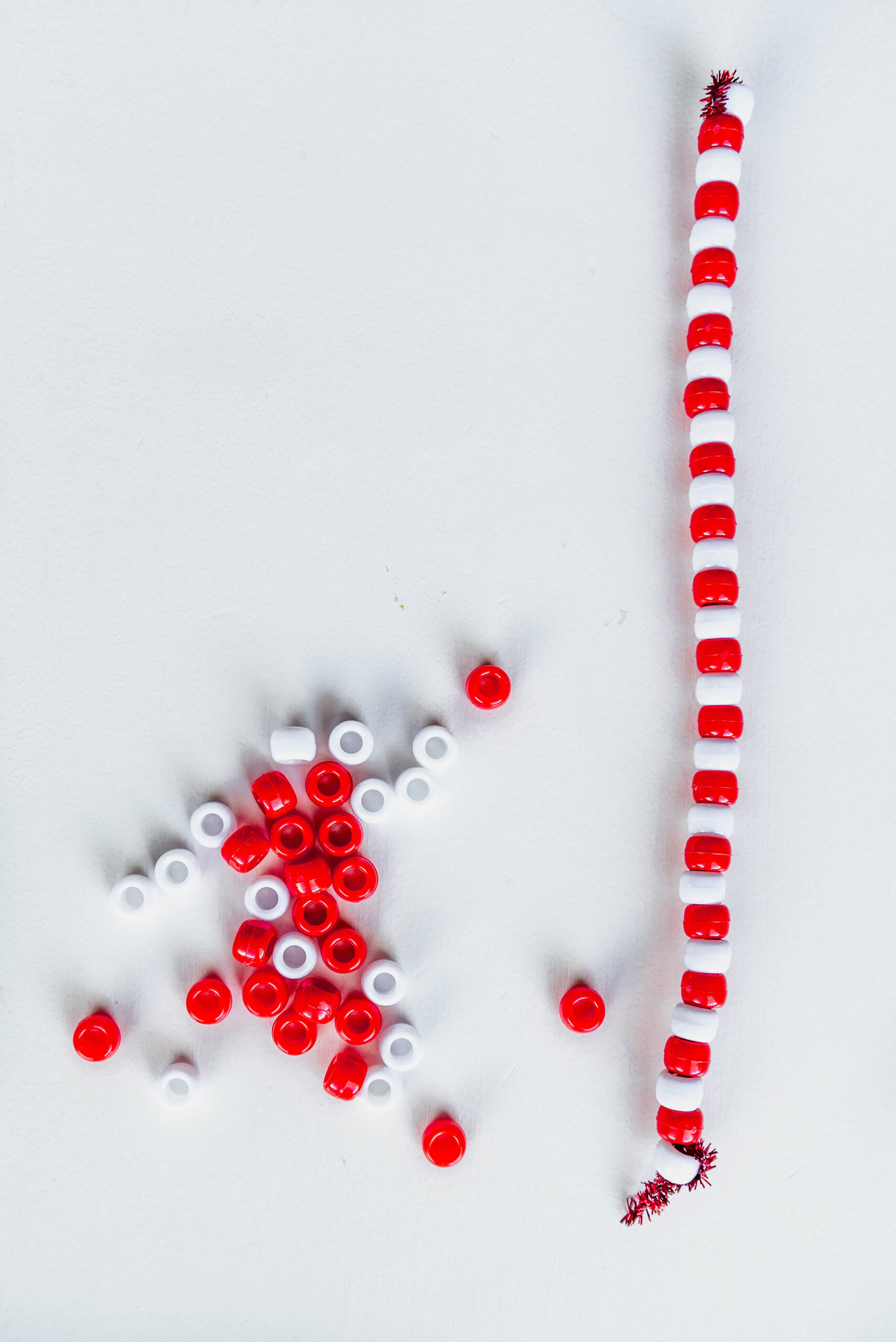 Step 5 (optional): Add a dot of glue using a hot glue gun to each end bead, ensuring it adheres to the exposed pipe cleaner.
Step 6: Finally, bend one end of the pipe cleaner into the shape of a hook to create the top of the candy cane. The end result will be your candy cane Christmas ornament!
Be sure to tag us on Instagram if you make this craft! Merry Christmas!
Looking for more Christmas crafts and activities?
Toilet Paper Roll Christmas Tree
Easy Pastel Pom Pom Caterpillar Craft